Here's a delicious pumpkin soup, so far, everybody who's tasted it has loved it, even those (the majority) who proclaimed they did not like pumpkin nor chestnuts. It's dedicated to Marie-Hélène, because I had my first taste of a delicious pumpkin soup at her place for her birthday, and because she brought me a wonderful pumpkin-seed oil from her beautiful Austria, and once you've smelled or tasted this wonderful oil, you just have to use it!
A word about pumpkins, I know for a lot of people, pumpkins are a boring - if not offputting - vegetable, whose only use is for Halloween with a candle in it. But trust me, once you've tried this, you'll change your mind. And if you cook it for others, you can do like I did, I didn't say what it was until they'd scraped their bowl clean!
I made up this recipe from scratch, I knew what sort of result I wanted: a delicately flavoured, creamy soup, light-brown colour. But not being a pumpkin connoisseur in the first place, and having some not-so-nice memories of eating pumpkin and being really put off, I knew I had to find a smart way of doing it in order not to end up with a boring sweet & orange-y coloured soup. Finally, I served it as mini-appetizers, in pretty glasses, but this is all up to you.
One last tip, I have already mentioned the (organic) Pumpkin-seed oil from the region of Styrie in Austria. This is a rare product that is only made there, it's a beautiful finishing touch to this soup, but if you don't have any, you may want to use a nice roasted hazelnut oil, or why not, if you like your food spicy, top quality chilli-falvoured olive oil. You should be able to find original oils in good delicatessens.
Ingredients (for 6-8 appetizers or two average bowls of soup):

250-300g pumpkin (300g with the skin= 250g without)
1 small potato
5 chestnuts
1 small onion
1 clove of garlic
1 thin slice of streaky bacon (not smoked)
cumin, curcuma, nutmeg
salt, pepper
olive oil, 1 cup of milk, 5-10cl single or double cream (1/2 - 1 cup), chicken broth (or cube)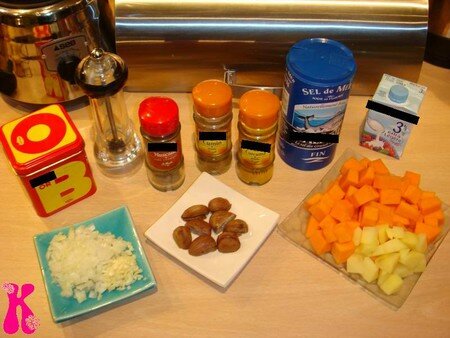 Préparation:
Dice the pumpkin and the potato, and halve the chestnuts (if preserves - it might be difficult if they're fresh), finely chop the onion and garlic, and cut the bacon into small pieces.
In a pan, heat 2 tbspoons of olive oil, gently sauté the onion and garlic until golden (but not brown!), add salt and pepper, and the bacon.
Then add the pumpkin and potato all in one go (if your chestnuts are fresh, add them now, if they're preserves, keep them for later) stir well for two minutes until everything is coated in the oil, throw in a pinch of cumin, one of curcuma, and ground some nutmeg, add a good grinding of pepper (be light-handed if you're going to use chilli-flavoured oil though), and salt to taste.
Cover with the milk and an equal amount of chicken broth (or boiling water with a cube) and simmer with a lid on for 10mn. After 10mn, add the preserved chestnuts, take the lid off, and simmer again for 10-15 more minutes, letting the liquid evaporate a little.
You're almost done, you should have a creamy sort of mixture with half-mashed pieces of vegetables, use a handheld blender to mix it into a fine and smooth texture, add a little cream, and your finishing touch: a few drops of delicious pumpkin-seed oil (or your oil of choice, half a teaspoon should be plenty).
Serve in pretty little containers as mini individual appetizers or in any recipient of your choice - a final tip: this soup is even better served lukewarm or cold.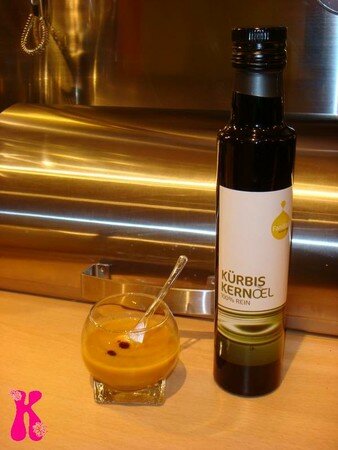 My first pumpkin soup, and the Organic Pumpkin-seed oil from Styrie, Austria.
Thanks to Marie-Hélène for the inspiration (and the pumpkin-oil incentive!

)

A trio of mini-starters, from left to right: sautéed foie gras on turnip puree with rasperry jam and balsamic vinegar reduction, sautéed scallops in butter, and pumpkin soup with a crispy bacon rasher.