Having used some Mascarpone cheese for another recipe, I had some left in my fridge, and as I'm in the process of emptying both fridge and freezer (call it my end-of-summer resolution), trying to prove we can live off the food we have in stock without going shopping for a month (Ok, that one's not working too well, but I'm digressing here...), I decided I might as well try and make a Tiramisu (as it's about the only thing I knew for which you need Mascarpone).
I must also tell you that the word Tiramisu had always conjured up images of some faraway snow-capped mountain... before I discovered that it was actually a famous Italian coffee-flavoured dessert (not impressed there, for I'm not keen on coffee other than in a cup, at breakfast) made with some Italian cream cheese (I've never liked the idea of cheese in a "dessert"...:-( ). So for a long time, I went without understanding all the rage about this dessert, until I was sweet-talked into trying a Tiramisu at a local restaurant (which, alas, is now closed) called... "Tiramisu" (I didn't invent that one!) and I couldn't believe how great it tasted! Not at all what I had expected! It had the most heavenly snowy-white creamy-textured heart on top of a thin layer of coffee-flavoured sponge finger biscuits, topped with a thin layer of cocoa powder... Since then, I've tried various Tiramisus at other restaurants, but I've never found one so good and fuss-free.
Which is also why I decided I wanted to try my hand at it! I browsed the net for recipes to start with - as you would - to find a recipe that looked simple & effective enough, but most of the ones I found included eggs (but I couldn't see how it was possible to use egg yolks and keep that light snowy-white fluffy texture I've just mentioned), sounded a bit sickly to me. So basically, I improvised on the basis of various recipes to come up with my own:
-----
Ingredients (for 2 tiramisus):
1 big tbspoon of Mascarpone cheese
1/2 cup single cream
1 cup double cream (about 10cl - the cream must have been in the fridge for 24h at least)
1 or 2 sponge fingers/Lady Finger biscuits (you can also spice things up by using ginger bisuits instead)
icing sugar, vanilla extract, cocoa powder, 1/2 cup of freshly brewed coffee, and a teaspoon of alcohol (dark rum, Cognac, or Coffee liquor)
---
Here's the 'instrument' I used to mix the various ingredients, I'm not sure what it's called (I'd say it's a kind of mini whisk or milk-frother):
First of all, gently mix the Mascarpone with the single cream (the texture must become smooth) until there's no lumps left. I underline 'gently' before you start whisking away the cheese & cream, because otherwise, you'll most certainly turn it into butter (Mascarpone is 80% fat) - I did! (lol). Once you've got the right texture (see picture 1 below), mix in some vanilla extract and icing sugar (to taste), then leave it aside.
Now whisk the double cream into a Chantilly (no, you can't cheat you way with a whipped cream spray, it would instantaneously collapse). It's the easiest thing to do, provided the cream was chilled for at least 24h prior to whipping (!). Pour the double cream into a narrow bowl, whip it preferably using an electric whisk, once it's starts doubling in volume, add icing sugar (to your taste) without stopping until you've reached the right consistency. Again, be careful to stop before it turns into butter. The result should be firm and soft. If you need extra advice, just ask in a commentary, I'll reply to you.
Now you're going to delicately mix the whipped cream (Chantilly) with the Mascarpone & cream mixture (the ideal proportion is around 1/2 Chantilly, 1/2 Mascarpone mix), the result should be fluffy and should have a mousse-like finish to it (pics 2 & 3).
At the bottom of a glass, lay a layer of finger biscuits, pour over your freshly brewed - & strong - coffee flavoured with your liquor of choice (the biscuits should absorb the liquid, there shouldn't be any extra liquid in the glass).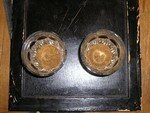 Now add the creamy mixture on top (some people like a second layer of biscuit before the final layer of cream, I'm sticking to my first - and best - experience of Tiramisu :-)), up to 3/4 of the glass. Finish with a thin coat of sifted cocoa powder. It's best to leave your TIramisu to cool for a few hours before savouring it, then all the flavours will express themselves, and the texture will be at its best.
Enjoy!
PS The glasses are from IKEA, and I used a pineapple leaf for decoration.

---